Dr. Moine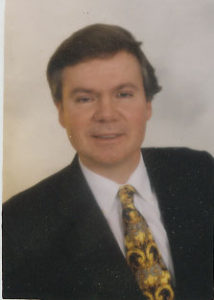 If you are a financial advisor, insurance professional, professional speaker, entrepreneur or business owner, you have probably heard of Donald Moine. Donald is credited with being one of the founders of the field ofSales and Marketing Psychology. He wrote the first Ph.D. dissertation in America on sales superstars and built expert models to teach their powerful influence strategies to others. Donald began actively trading the stock markets in 1974 while an undergraduate at the University of California.
In 1982, Dr. Moine and John Herd wrote the first book on neuro-linguistic programming (NLP) applied to sales and marketing. This book, Modern Persuasion Strategies, published by Prentice-Hall in 1983, went on to become a business best-seller in more than one dozen countries. Donald was a student at the University of California at Santa Cruz when fellow student Richard Bandler and professor John Grinder originally developed NLP.
Dr. Moine has been hired by dozens of major corporations around the world to help with special marketing projects. His sales and marketing projects have led to documented sales increases of more than $9 billion for his clients. More importantly, his clients have been able to expand their businesses and create several thousand new jobs in a variety of industries. One client alone (Home Federal Bank) booked an additional $1 billion in new assets beyond all projections over an 18-month period of working with Dr. Moine, two of his partners and four of Dr. Moine's consultants. Home Federal was able to save 927 formerly threatened jobs.
Our areas of expertise are sales and marketing effectiveness and investment strategy. We are focused on helping our clients achieve their profitability goals. In the investment field, we devote our efforts to helping clients maximize investment income. Dr. Moine has passed the Registered Investment Advisor Legal Examination and works as an IAR for two investment firms. Dr. Moine designs Income Portfolios.
Donald started studying Neuro-Linguistic Programming (NLP) in 1974 while an undergraduate. NLP is the science of how words and language program human thought and behavior. Versions of Neuro-Linguistic Programming were later popularized by media-superstar Tony Robbins and others. Dr. Moine's first book on NLP and sales (published in 1983 by Prentice Hall), literally changed the way sales and marketing campaigns are conducted around the world.
In 1990, Dr. Moine and New York Times syndicated columnist Dr. Ken Lloyd wrote Unlimited Selling Power, which has been one of the best-selling marketing books ever. Success magazine selected Unlimited Selling Power as one of the top 10 sales books of all time.
Clients:
Dr. Moine has served as an advisor to dozens of major companies around the world, including:
Paine Webber
General Motors
Zurich Insurance
ADP
Home Federal Bank
Parker Chemical
World Financial Group
Qantas Airlines
SCA
Baltimore Life Insurance
AT&T
SunAmerica Securities
Advanced Image Systems
The New England Funds
Control Data Corporation
Dyna-Chem
Eutectic (Zurich, Switzerland)
The Frank Russell Company
(managers of more than $1 Trillion in assets)
Merrill Lynch
Isuzu
Hughes Aircraft
Blue Shield
E.F. Hutton
Starwood Hotels
Blue Cross
Patterson Capital
Monitor Money (Australia)
Securities America
Donald has served as a consultant to dozens of other firms on four continents. In addition to working with multi-billion dollar firms, Donald also works with many smaller companies, entrepreneurs, successful business owners, and professionals (primarily financial advisors, insurance professionals, famous speakers, top real estate trainers, authors).
Donald has worked as a consultant and advisor to a number of well-known international marketing experts including Jay Abraham and Ted Thomas. He has served as the personal coach to several famous television and media personalities including Dave del Dotto and Charles Givens.
More than 200 executives, entrepreneurs, business owners, financial planners, stockbrokers, attorneys and other professionals and business people over the past twenty years have chosen Dr. Moine as their personal coach and advisor. Starting his career in the early 1980's, Donald is one of the pioneers in the field of professional coaching.
One of Donald's special areas of expertise is marketing presentations. Dr. Moine's marketing presentations and sales presentations are used by more than 90 of the Fortune 500 companies and countless smaller businesses. He is the co-author, along with Gerhard Gschwandtner, of The Sales Script Book, the #1 best-selling script book in the world. More than $1 million worth of copies have been purchased. Dr. Moine's sales presentations have helped a number of companies break sales records and bring in millions to more than $1 billion in windfall profits.
Donald is the author of ten books, dozens of training manuals and more than 300 business, marketing and investment articles. He has been interviewed on more than 150 talk radio shows and several television shows in the United States, Canada and Australia. Dr. Moine is a featured contributor every month on several of the top websites for financial advisors.
Donald's latest book is Ultimate Selling Power: How to Create and Enjoy a Multi-Million Dollar Sales Career. Co-authored with Dr. Ken Lloyd, this book was published in October, 2002 by Career Press and has already been translated into seven foreign languages. Ultimate Selling Power is available in most major bookstores, on Amazon.com and other websites.
Donald Moine, several college professors and graduate students founded Association for Human Achievement, Inc. For the past 25 years, AHA has been dedicated to taking findings from the behavioral sciences and behavioral finance and applying them to business and investment management. AHA has received several government grants to support its work.
While we do not solicit endorsements, we have received more than 1,000 written endorsements of our work from business owners, entrepreneurs, financial advisors, insurance professionals, public speakers, thought leaders and major corporations.  Clients describe our approach as immediately useful, highly creative, powerful and action-oriented.    We are totally focused on helping our clients solve all their sales and marketing problems and on increasing their sales and profits.
We give our clients all the credit for what they achieve.  We serve as the catalyst, the coaches, the advisors, the guides and, in some cases, the implementers.  While most coaches and consultants simply tell you what to do, we often help our clients do it.  We work with you to make sure it gets done and this can make all the difference in the world in terms of the level of success you achieve.
Our Partners.
Over the years, we have been privileged to work as partners with world famous experts in many different fields.   We have worked with partners such asTom Gau, CFP and Ken Ungar of Million Dollar Producer.    Tom Gau is one of the most successful financial advisors in the world.  Dr. Moine has worked on a partnership basis withJay Abraham who is widely considered to be the top marketing mind in the world today.   For many years, Dr. Moine has worked as a partner with EricLofholm, one of the top sales trainers in the world today.  We have also had successful partnerships with Geoffrey Pickworth of Chally Consulting in Australia and have done speaking tours in all of the major Australian cities.
While we are now very busy with current projects, if you would like to discuss a possible partnership arrangement with Dr. Moine, we invite you to contact us.
The Power of Expert Models.
We use many different powerful approaches and powerful tools to help our clients rapidly build their businesses.  One of these that we have become well-known for is our use of the science of expert modeling. Rather than just sharing ideas about what is supposed to work in business, we have spent many years actually studying and working with some of the most highly successful financial advisors, insurance professionals, speakers, entrepreneurs and business owners in America to develop a deep understanding of exactly HOW they do what they do.
We have built expert models of their expertise and can now can now make that expertise available to other people who never thought they could make so much money and become so successful.
We've also been hired by a number of Fortune 500 companies to build expert models of exactly what their top producers do that makes them so successful. Like world class athletes, many top producers and top performers cannot explain in detail all of the processes they employ to create their success.  They can do it but they can't teach it.
That is because their skills and expertise and intuitive.  We make their skills explicit and therefore, finally learnable by other people.   This is a very exciting and very powerful process!
Very few world class athletes become great coaches and in business, very few top performers can explain or teach their top-level skills to others. That is where we come in.  We have developed powerful expert models of exactly how top sales producers and top speakers do what they do and we can now make these life-changing skills available to you.
We have built many powerful models of the exact skills and steps used by top producers in a wide variety of business fields to achieve extraordinary levels of success.  The breakthrough of Expert Modeling finally makes it possible for other people to learn the intuitive skills of super high-level performers in variety of business specializations.
The Power of Implementation.
While most coaches and consultants simply tell you what to do, we often help our clients do it.  We work with you to make sureyour marketing project, sales project or advertising campaign gets done and that it is very successful.  We make sure your sales representatives and speakers are trained so that they bring in the maximum number of sales.
We do this not just by providing you with high-quality advice and guidance but by actually helping you implement the action strategies that will lead to financial success.
For example, we have helped clients write articles, e-books, speeches and seminars that have been responsible for the sale of hundreds of millions of dollars of annuities. Some of our individual clients have made more than $10 million in commissions in one year from annuity and insurance sales.  We have helped financial advisors write articles, e-books, books and speeches that have brought in billions of dollars in new assets.  We have helped other clients originate more than $1 billion in new mortgages.
Unlike the simple "advice giving" consultants and coaches that are so common today, we believe it is not merely advice but implementation that is the secret to achieving and maintaining a high-level success.
Here are some other projects we have implemented with our clients to help them take massive action that leads to massive success:  We help you write powerful new sales presentations, develop powerful new scripts, and develop new podcasts and webinars.  We help you write articles and e-books and we help you get them published (some of our clients have had best-selling books and others have become nationally syndicated writers for major newspapers).  We can help you get on television and radio.  Dr. Moine has been on more than 250 radio shows around the world and we've helped several of our clients get their own radio shows.  We can also train your salespeople and speakers so that they bring record-breaking amounts of revenue to your company.
Our Companies.
Association for Human Achievement, Inc., was founded more than 30 years ago while Donald Moine was a graduate student working on his Ph.D. Donald Moine, several college professors and fellow graduate students founded Association for Human Achievement, Inc. with the purpose of  taking findings and breakthroughs from the behavioral sciences, linguistics, NLP, and expert modeling and applying them to business and personal growth.  AHA has received several government grants to support its work.AHA has a twenty-five year track record of success as a consultancy to Merrill Lynch, Paine Webber, General Motors, Hughes Aircraft, Zurich Insurance, Blue Cross/Blue Shield, Home Federal Bank, Securities America, Starwood Hotels, ADP, Toshiba and dozens of other companies on four continents.
Triad Management Corp. is a newer company Dr. Moine founded to offer our clients an even wider range of services. The Triad refers to our three areas of expertise:* Sales, Marketing and Business Building.
* Writing Powerful Sales Presentations, Scripts, Advertisements, Articles and E-Books for Clients.
*Helping Clients Achieve Personal Breakthroughs
From the very beginning of his professional career, some of Dr. Moine'spassions have included therapy, NLP, therapeutic hypnosis, helping clients solve every personal problem, personal coaching, interventions, insight development and helping his clients achieve happiness.  Dr. Moine uses some of the most powerful personal change technologies in existence, including NLP and hypnosis, to help clients break through personal blocks, rapidly solve problems, break bad habits, become more successful and achieve happiness.
These days, anyone, no matter how untrained or how unskilled, can say they are a "personal coach."  Dr. Moine is one of the few high-level personal coaches in America who has a Ph.D. in Psychology from a major university and who has spent his entire adult life as a serious student of personal growth and personal growth breakthroughs.
Dr. Moine puts all of his years of expertise and experience to work for his clients and combines that expertise with a caring heart to help his clients achieve breakthroughs, make major come-backs and live amazing lives.
Contact Us for a Free Consultation
If you see a match between our areas of expertise and what you are looking for, send a brief email to and tell us about your goals and what you would like to accomplish.  Dr. Moine will get back to you as soon as he can.
Due to our busy schedules, we are only able to work with a few new clients each month. We've worked with everyone from one-person start-up companies to individual speakers and life coaches to thousands of sales people.    Dr. Moine has also served as a consultant to tiny high-tech start-up companies to $50 billion corporations.  If you are highly ethical, if the project is interesting and if we have the time, we would love to work with you.
We look forward to receiving your email.  If there is a fit between our areas of expertise and what you are looking for, we can set up a free 10 or 15 minute phone call with Dr. Moine that you should enjoy.